About Us
Craig Munro is the Master Craftsman and Director of Wallace Bagpipes. He started learning the chanter at the age of 8 through the Linwood Caledonia Pipe Band under tuition from Gordon Lawrie before joining the Renfrew District Association (latterly Paisley Pipe Band) at the age of 10 under Pipe Major Colin Johnstone where he won various RSPBA Major Championship titles in Novice Juvenile and Juvenile until joining the Shotts & Dykehead Caledonia Pipe Band Under Pipe Major Robert Mathieson at the age of 15. He has played at the top of grade 1 for 20 years with the last 10 years as a member of the St Laurence O'Toole Pipe Band where he currently runs their Scottish branch of the bands pipe corp. As well as his commitment to St Laurence O'Toole, Craig is in demand as a guest player and mentor for bands worldwide where he has also won Championships in Europe, Australia, South Africa and North America.
He is in high demand worldwide for his teaching and adjudication services such as Europe, North America and South America. His Understand & Appreciate Your Bagpipes lecture which takes the audience on the journey of an African Blackwood seed through the plantation and harvesting process in Tanzania then a virtual tour of his factory is the highlight of any workshop!  He is also an approved IPBA Adjudicator as well as an SQA Assessor for the National Piping Centre.
Out with the competing circuit, Craig is also a member of the Red Hot Chilli Pipers touring the world and performing to crowds as large as 60,000 at venues including the SECC Hydro and BT Murrayfield Stadium. As a keen golfer, his favourite Chilli Pipers gig is performing at the 2014 Ryder Cup in Gleneagles, Scotland. He has featured on the Disney Pixar "Brave" soundtrack as well as the DreamWorks "How To Train Your Dragon 2 & 3" soundtrack.
Get to know Wallace Bagpipes
Here's Craig telling you a little bit more about our range of Bagpipes.
How We Make Our Bagpipes
An insight into what goes in to crafting our bagpipes in our factory in Glasgow.
See and Hear Craig In Action!
Here's Craig with The Red Hot Chilli Pipers making an appearance on BBC 1 covering Avicii's song "Wake Me Up". Produced using our very own Wallace Bagpipes!
Armstrong Bagpipes
The process of designing Armstrong Bagpipes started from an initial conversation with ScottishPower Pipe Major, Chris Armstrong, in late 2015.
Average bore and internal sizes were taken from a sample of 6 sets of pipes which provided a starting point for the extensive design and testing of the instrument.
Through the development stages various bore sizes were tested until Chris settled on what are now the final internal dimensions for the Armstrong Bagpipe.
One of the key design features are the unique bells in the tenor and bass drone tops. The tenors having a cup shaped bell with the bass having a conical shaped bell - this gives the drones a very balanced projection of bass and tenor creating an excellent overall blend of harmonics.
Proud Sponsors of the Red Hot Chilli Pipers
It gives us great pleasure to be the bagpipe supplier to the incredible world touring 'Bagrock' band and have been working with the Chilli Pipers to designed their very own 'Red Hot Chilli Bagpipe' using only the finest materials and first class craftsmanship that you would expect from Wallace.
The Red Hot Chilli Bagpipes are available for sale to the general public and we are very much looking forward to supporting the Red Hot Chilli Pipers over the coming years.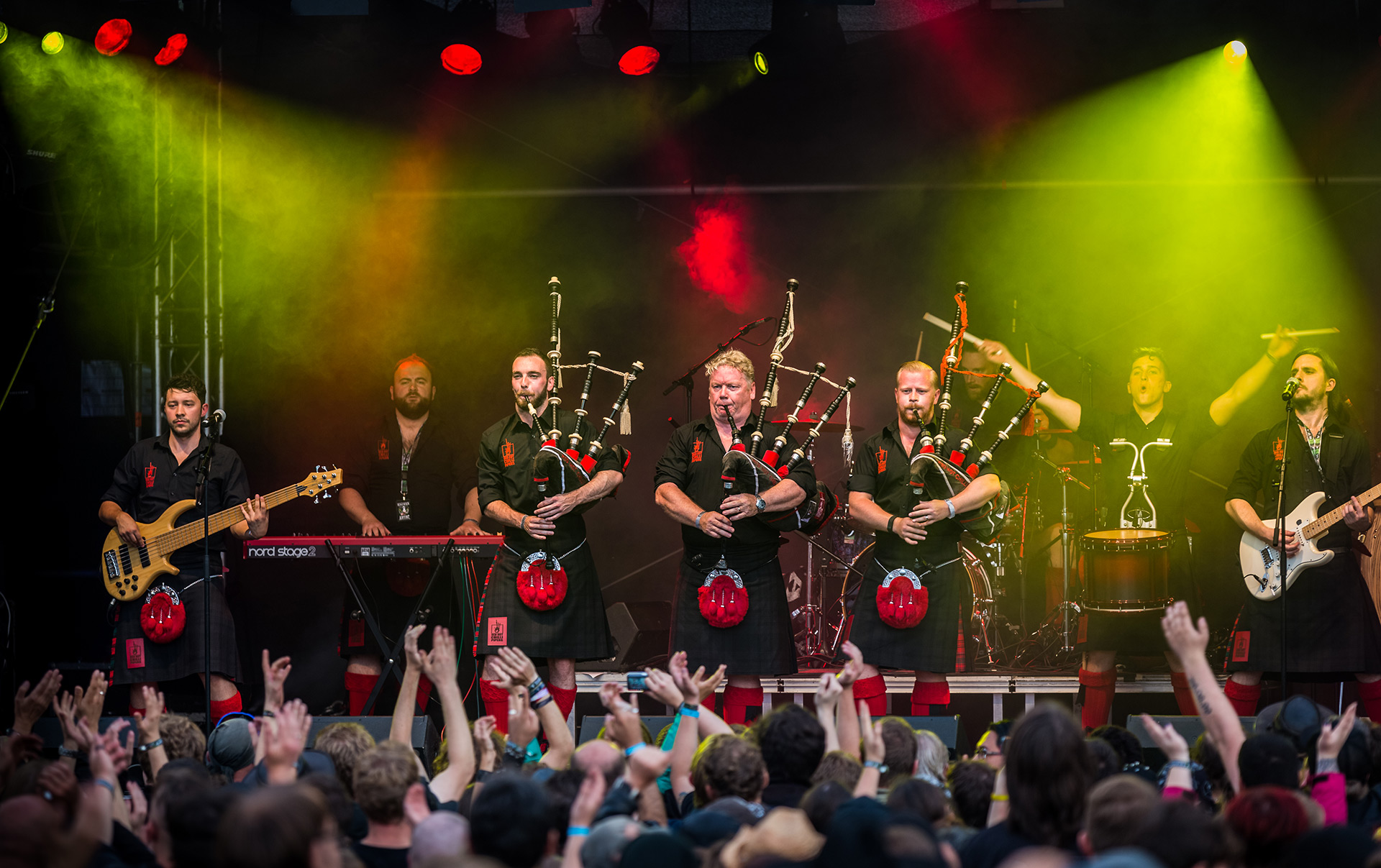 Configure and Buy Your Bagpipes Online
Although we pride ourselves on our traditional manufacturing techniques, we offer our customers a very modern platform on which to configure and purchase their new Bagpipes via our unique online Bagpipe shop.
Browse our range of Bagpipes from the comfort of your own home and buy with confidence using our fantastic online store. We ship worldwide unless we have a stockist in your country with exclusive distribution rights.
Check our Stockists page for a retailer in your territory, or purchsae direct from us!